Register to get an account and get 2 free credits once you register. In order to complete your registration and Login you must activate your account by clicking on the activation link we send to your -mail account. Check your Spam folder as well. Send us an e-mail at support@apexceus.com if you do not receive it or cannot find it. 
Then go to Courses and choose Free Courses category and add additional courses as needed.
Purchase one of our ASRT ARRT approved CE courses using a credit card. Once you have paid for a course, go to My Account and click on Orders, the course will be available to you as a link in the order you just placed. The reading material is an online course that you can read and search using your smartphone, tablet or PC, or print out a copy. You can open a browser window with the course content and another with the Quiz or you download the pdf, to view it any time using your computer or a tablet or smartphone.
As you read the course online please make sure that you click the button Mark As Complete for each section of the course.

According to ARRT CE rules, you are required to complete and pass a post test. Once you pass the quiz, you will be able to download a certificate of completion that contains all information required by the ARRT and ASRT.
You can complete the quiz in one sitting or you can Save your work and come back at your convenience.
The certificate of completion for each course is appended to the course once you pass the quiz. Once you receive the Pass message close the Quiz window by clicking on the x at the top right corner. Your certificate can then be Downloaded.
You can Save your certificate as a pdf or jpg by opening the certificate and clicking on the download icon to the right. Please make sure you choose the file type, pdf or jpg, by clicking on it as well. The certificate can also be printed.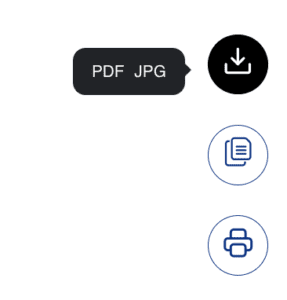 If you return at a later time and want a reprint of the Certificate, Go to My Account, click on Orders, open the order with the course of interest and click on the name of the course. The certificate link is clearly posted on the course page. You can also click on Courses on the Home page of the site, scroll down to the course and click on Download Certificate.